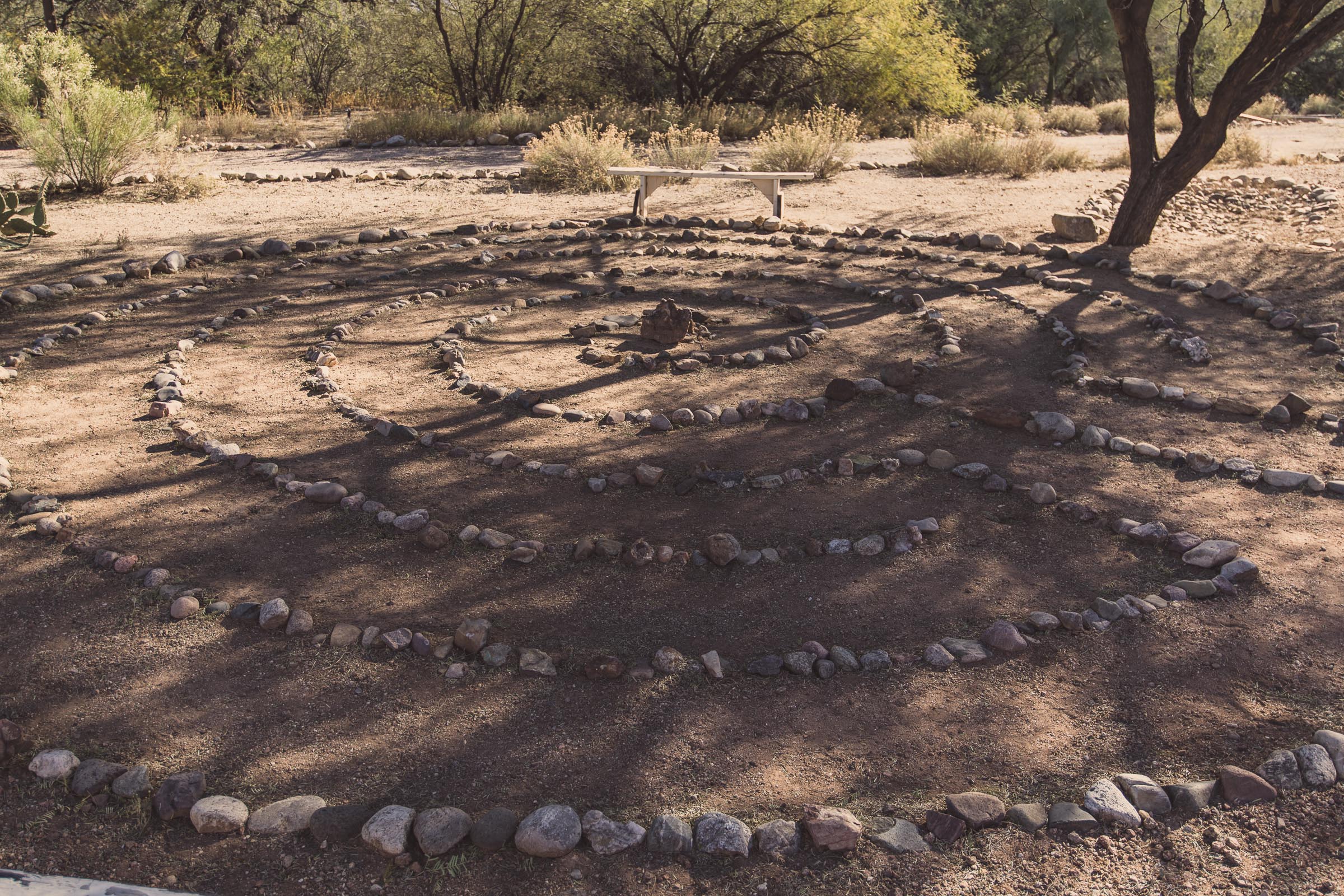 We are very happy to welcome anyone to enjoy the beautiful, simple labyrinth on the Sunrise Chapel grounds.
What is a Labyrinth?
A labyrinth is an opportunity for prayer in motion, a walking meditation. Open your heart and mind to God, the Lord, your higher power. Celebrate a joy, or share a concern as you move through the space. It is a time to invite insight and direction.
It's not a maze, where you might find a dead-end. It's a path that leads you in to the center and back out again. One way to think of it is letting the Lord flow into you and turn off your "chatting thinker" who wants to solve all problems, not very effectively! Let the Lord lead you, trust the path, and see that you are right where you're meant to be. Notice the rejuvenation and calm that can happen after walking the labyrinth.
The labyrinth was installed on Saturday, October 1, 2016 as a collaborative effort by members and friends of Sunrise Chapel. It was a lovely experience. We want this labyrinth to be a community service, a place of peace and mindfulness for all to enjoy.
More about Labyrinths (from the Labyrinth Society website)
The labyrinth is an ancient archetype recently rediscovered as a path of prayer and walking meditation. Existing for more than 4,000 years, labyrinths are mythological designs used for symbolic pilgrimages and spiritual practice. In a hyperactive world of constant connectivity, labyrinths are in resurgence as more people seek out sacred spaces that promote insight and inner wisdom.
Labyrinths are found in diverse environments, from schools, parks and prisons to corporate campuses in Silicon Valley (Google offers two for employees in Mountain View and a golden snail greets visitors at the center of the walking path at Electronic Arts in Redwood City). Churches are also building labyrinths as an alternative way to engage their community and facilitate spiritual practice. For much more information, see
The Labyrinth Society
website.
World Labyrinth Day 2021
A lovely event on World Labyrinth Day – Saturday, May 1, 2021
We welcomed more than 2 dozen people at Sunrise Chapel's labyrinth on World Labyrinth Day, 2021. Check out the brief video to get a feeling for the special occasion. The annual World Labyrinth Day is the first Saturday every May.
Sunrise Chapel's labyrinth was installed in October 2016 just east of the main chapel building under two shady mesquite trees. It is the most recent of several spiritual paths on the property. It is listed as open to the public on the world labyrinth locator, one of about 2 dozen labyrinths in Tucson, AZ. See: https://www.labyrinthlocator.com/
Thanks to Tryn Seley for introducing the walk which took place starting at 1 pm.
This was part of the intention and energy and wave of many people around the world who were walking labyrinths in their respective time zones on this day.
King David gave this declaration in the Psalms, "You will show me the path of life; in Your presence is fullness of joy." (Psalm 16:11)